What is Ancestral Lineage Clearing?
Many people are astounded to discover they can actually change genetic patterns that repeat themselves through their family of origin. We can shift energy to heal ourselves and our descendants.
Ancestral Lineage Clearing is an advanced healing technique where a person energetically travels back into their family's past to change an unwanted embedded family pattern in order to bring more happiness, health, joy, prosperity or better relationships into their present life.
Deep, energetic work is one of the ways Ariann has shifted some of the most tenacious limiting patterns in her life and the lives of others.  Patterns like:
Financial stress and career challenges
Relationship difficulties
Inherited chronic health conditions or depression
Family abuse patterns we can shift energy to heal ourselves and our descendants.
If you are feeling like you can't do anything about the pain you are experiencing and you just have to live with it, this is an indicator that a pattern needs to shift! Breaking the chain of generational disease, broken relationships, emotional abuse and poverty is a powerfully freeing experience.
Would you like to learn more about Ancestral Lineage Clearing?
Are you interested in learning more about this wonderful healing technique? After enjoying the benefits of an Ancestral Lineage Clearing session yourself, would you like to help yourself or other family members to benefit from Ancestral Lineage Clearing?
Ariann is so excited about the results Ancestral Lineage Clearing can provide clients that she periodically schedules classes to teach interested students who want to learn this healing process.
Who would benefit from a class?
Healers find adding Ancestral Lineage Clearing to their repertoire of skills and techniques broadens their resources enabling them to support clients on their path to wellness.
Hypnotherapists in particular find Ancestral Lineage Clearing in alignment with their work and an expansion of its basic technique.
Those interested in personal growth will want to use these techniques, personally, to continue to clear and heal patterns that arise in you.
The 'family healer', who seems to take care of everyone's challenges, will find this class valuable to consciously move into your healing power.
Ariann uses a hands-on approach and gives participants the opportunity to practice the Ancestral Lineage Clearing process she describes in her book, Healing Family Patterns: Ancestral Lineage Clearing for Personal Growth.
During the class you will:
1. Identify limiting family patterns and the underlying core beliefs creating the patterns,
2. Understand the theory and creation of the limiting beliefs,
3. Learn to contact the ancestor who originated the limiting pattern and create a new pattern,
4. Release the energy of limiting patterns and replace it with positive energy that will remain in your energy field, and
5. Be entitled to a personal Ancestral Lineage Clearing Session with Ariann at the end of the class.
Testimonials from former students:

Beside my own healing I came out of this class with a deep understanding of how ALC works and how profoundly efficient simplicity is. And when I mention the word simplicity I mean holding sacred space with the power of simply breathing and concentrated consciousness . No fuss about prayers. A sincere call to what our hearts keeps dear and Gratitude.
I enjoyed Ariann's style of teaching, guidance, and confidence in her students' ability to learn the skills she imparted…. Ariann's experience, gentle management of student expectations, clear explanation of the healing process made the learning experience most enjoyable, and easy to follow and accomplish…. This journey has given me a deeper understanding what is to be a "link breaker" in the form of self and family healing Ancestral Linage Clearing creates.
Learning how to find and clear ancestral energy influences for improving my life, changing beliefs, improving health, and the inspiration to share it with others. It has given me more options to offer those who come to me for healing. THANK YOU! In addition, it has given me the desire to share and facilitate the process with others too, if they are interested.
Ariann has developed an internet class that can be accessed on your own time. A Live 2 1/2 day class with Ariann is scheduled in San Diego, CA on September 13-15, 2019
6 Week On-Line Class with private session upon completion.

An intensive 6 week module workshop in active preparation to offer Ancestral Lineage Clearing as a healing practice.
Students are taught the theory, concepts and actual process of Ancestral Lineage Clearing as a healing process.
Each student practices the preparations, meditations, journeys and energy clearings.
Students will receive a PDF of Ariann's book, Healing Family Patterns: Ancestral Lineage Clearing for Personal Growth at the beginning of the course and a signed hard copy at the end of class.
Participants who satisfactorily attend the class, may elect to complete additional requirements to receive a Certified Practitioners' accreditation and may be eligible to be placed on the website for referrals.
After registration you will receive an email confirming about the course and additional details.
Class Details for Virtual Class
Class: 6 modules containing progressive information for the student to learn to become an Ancestral Lineage Clearing Practitioner. 

Cost: $699 for General Learner Track and $999 for the Practitioner Track. Contact Ariann for a payment plan if needed.
Certification: Class participation has option of certification as ALC Practioner with added requirements and includes additional benefits.
 Contact: Ariann@AncestralLineageClearing.com or Phone US 928-284-5738. Register for the virtual class on the Classes/Training page.
An in-person class is being scheduled for September 13-15th in San Diego, CA, USA. The California Class is set from Friday night 6-9 pm PDT through 4 pm Sunday PDT. Price is the same as the virtual class.
This intensive 2 1/2 day class begins Friday night through Sunday afternoon. Attendees are responsible for all transportation and lodging.
Location: San Diego, CA, USA
Cost: $699/$999
Certification: Class participation has option of certification as  an ALC Practioner with added requirements and benefits.
Class size: Class is limited to 15 participants.
Contact: Ariann@AncestralLineageClearing.com or 928-284-5738 if you are interested in attending.
Who is Ariann?
Ariann Thomas specializes in holding Ancestral Lineage Clearing sessions and is the author of Changing Our Genetic Heritage: Creating a New Reality for Ourselves and Future Generations and Healing Family Patterns; Ancestral Lineage Clearing for Personal Growth. She brings an expansive view with her study of science, history, and the nature of the Sacred Feminine to her work. She is part Cherokee by heritage, a ceremonialist, elder, intuitive reader, Shamanic practitioner and healer.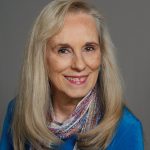 Registration for either class is on the Program/Training page. Check our newsletter for further details.